The last couple months have been challenging in many ways. I transitioned out of my office job and into a barista position at a local coffee shop. Instead of sitting behind a desk answering calls and uploading documents, I'm moving around, interacting with customers, and, overall, much more active. Did you know that people in more active lines of work are more likely to live longer? I love that my jobs keep me active!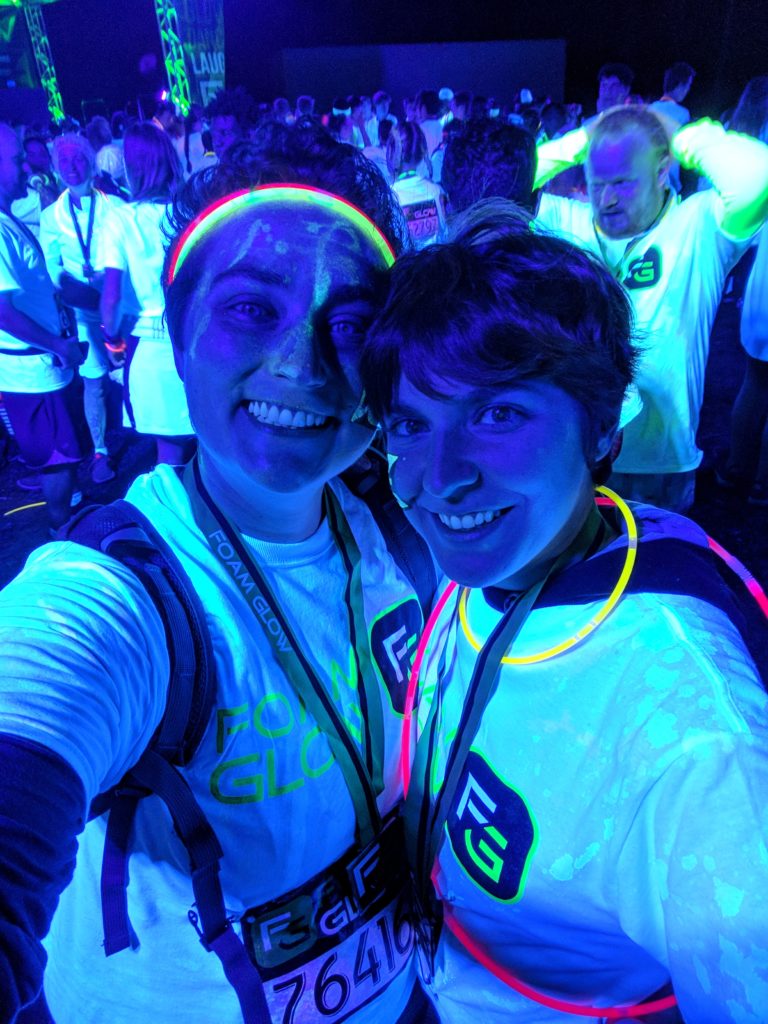 Speaking of living an active lifestyle, I'm proud to say my workouts have been consistent. In fact, I tested out the T-Minus 30 Tough Mudder workouts this last month — brutal workouts for sure but manageable! I mean, anyone can do anything for 30 minutes! I do feel as though the workouts prepared me to tackle many different course obstacles!
For Firsts! I ran my first 1/2 Marathon which was called "Me. She. We." Running 13.1 miles was brutal! Around mile 11 and 12, I plateaued as if I ran smack dab full force into a wall. During the last mile I constantly bargained with myself. "If you just jog to that light post, then you can walk a bit." After the race, my body felt so worn, and I hurt for the next couple of days. I thought, "Well, that was crazy, I never want to do that again." So, when my friend Marena told me about the "Fueled By Fine Wine" 1/2 marathon happening in July, of course I signed up to run with her.
Speaking of firsts, Aftyn (my lovely partner) completed her first race ever! I felt so privileged to be a part of her first race! We ran the Foam Glow Run. This was my first running a race at night (kind of scary)! We not only made great time but had a good time! As soon as she finished, Aftyn was already rearing to run her next race!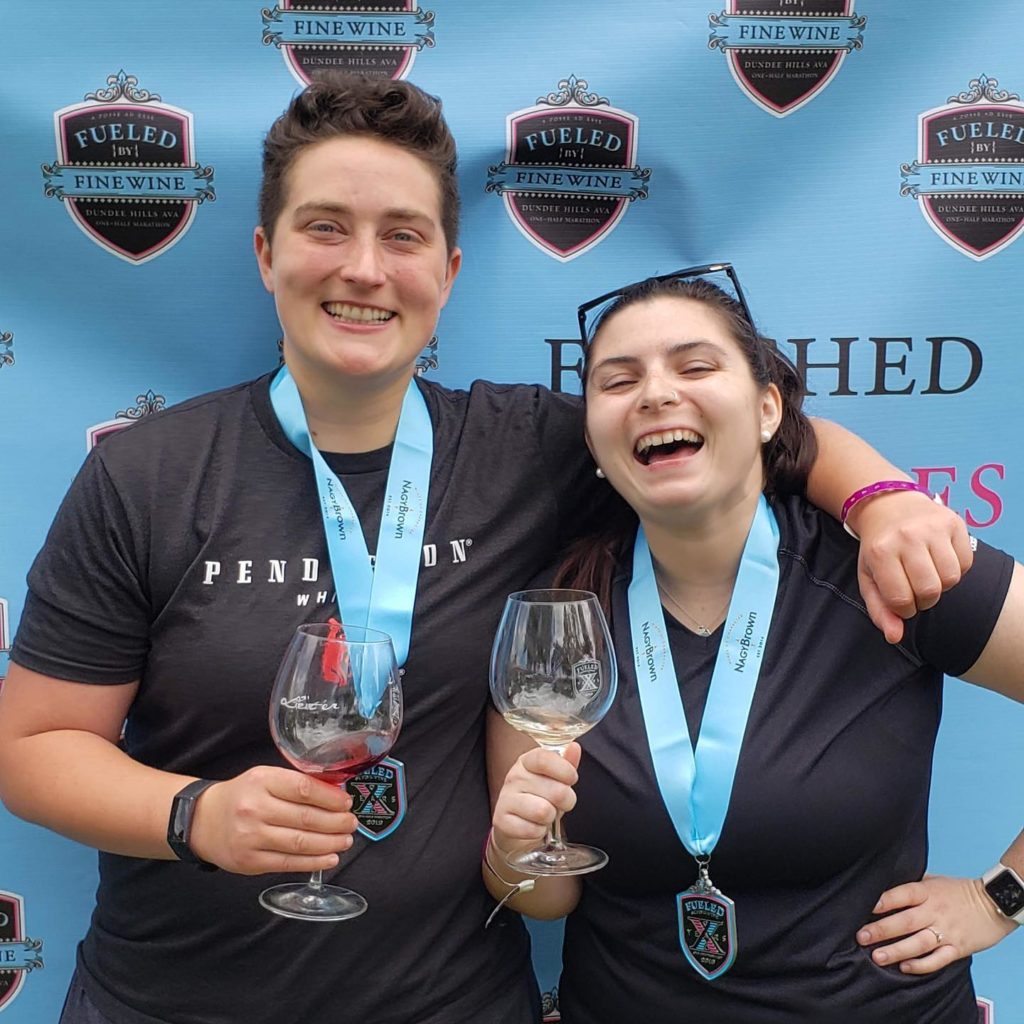 For Seconds! Fueled by Fine Wine was one of the toughest courses (terrain-wise) I have ever run. The course consisted of 13.1 miles through Oregon vineyards which translated into hills upon hills upon HILLS. Still, I felt remarkable improvement not only while running my second 1/2 marathon but also in the recovery time. Running and completing such a challenging race felt exhilarating, especially considering I had run the Rugged Maniac the previous weekend.
Speaking of the Rugged Maniac, this was my second year tackling the Rugged course and signing up for unlimited laps. This year, I completed three laps versus last year's two laps. I also improved my overall time. Last year, two laps took me 2 hours and 30 minutes to complete. This year, two laps only took 2 hours and 14 minutes! I love seeing improvement!. Not only improvement in completing obstacles that I couldn't before, but also in the quickness in which I can conquer them.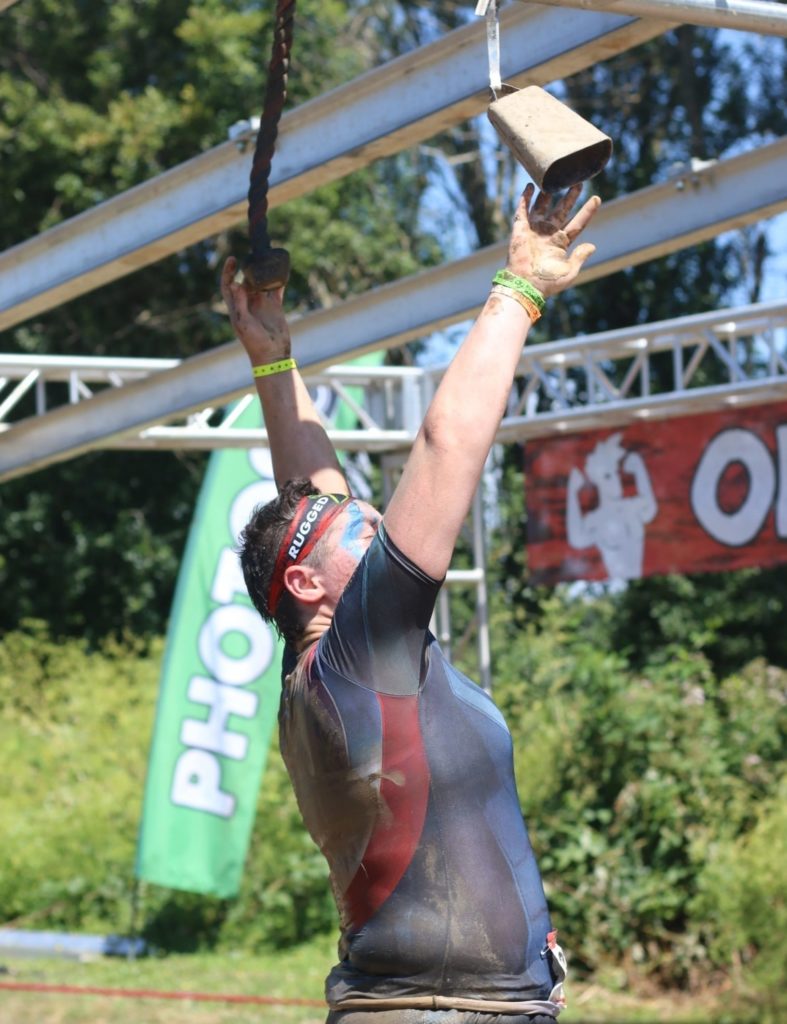 For Thirds! I completed my third Warrior Dash which enabled me to "re-tap" into my love for obstacle course racing. Comparatively, the Warrior Dash is an easy race. The obstacles aren't aggressively challenging which allowed me to focus on having fun! I was definitely surprised by how energized I felt at the end of the race. I felt as if I could go another lap or two which definitely solidified the possibility of competing in the the elite heat next year!
For Beyond! I am stoked for my upcoming races! I am stoked for the adventures and trips I have planned with my partner! And overall, just feel extremely fortunate to be alive and young and healthy and pursuing my goals and dreams!
Thank you for your continued support in this life adventure!