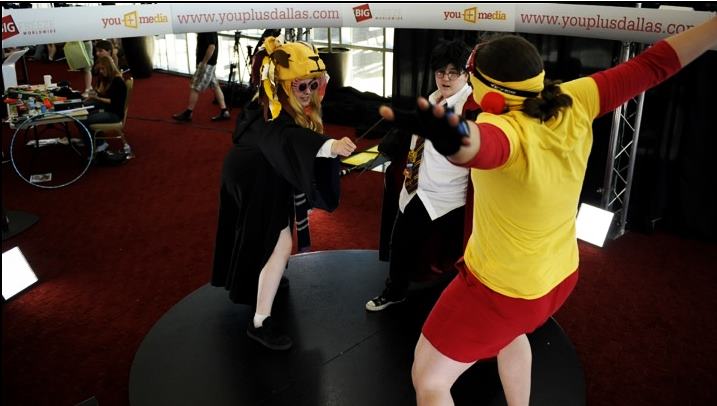 As a nerd I absolutely love and enjoy nerdy activities such as comic conventions! This weekend I attended Dallas Comic Con 2012 with my friends Dara and Sonia. I spent hours on my Kid Flash cosplay and was quite pleased with the result. Dara and I woke up at 5:30 AM in order to leave town by 6:00 AM. After making a necessary Starbucks run, we headed toward the Irving Convention Center. We arrived around 7:00 AM and started waiting in line to buy our badges. They opened the doors around 9:30 AM. After purchasing badges, we were kicked back outside to wait in the general attendance line. The lines were crazy, and the logic behind said lines confusing. Surprisingly, several people came up and asked to take photos with me. Two adorable little girls asked if the
y could take a picture with "Kid Flash." They made my day! When we finally were let in the building around 11:00 AM, we headed straight to the dealers room. The dealers room was extremely crowded as usual. After spending hours digging through comics, hunting through boxes and bins, and browsing various booths, I purchased a Hogwarts pin, Deadpool pin, Gryffindor patch, Captain America patch, five small action figures, two presents for friends and a huge stack of comics. Overall, it was a rather productive exploration.
Then we took a break for snackage. We trekked out to the car and dropped of our haul. I downed some tuna and crackers, and a couple bottles of water. Megan and Rachel met up with us at the car, and we headed back inside. Dara and Sonia went back into the dealers room while Megan, Rachel and I explored the other floors. We chilled out on the third floor and talked and lazed about. Regaining our energy, we headed up to the top floor. At the top we discovered a 360 photo shoot. Megan and Rachel were cosplaying Harry Potter. We decided to try the 360 photo. Luna Lovegood (Megan) and Harry Potter (Rachel) aimed their wands at Kid Flash (me). I jumped backward as if they were hitting me with some sort of spell. The photo turned out ridiculously awesome! If you would like to see the 360 photo click here. Around 5:00 PM we decided to call it a day and head home.
360 degree photo shoot

We saw three generations of Flash cosplayers and a number of other awesome costumes. Patrick Stewart, Adam West, Kevin Conroy, Peter Mayhew, Dave Prowse and a number of other famous people were at the convention. We didn't have a chance to attend any of the Q&As or other events. Most signatures and photo ops cost too much to be worth it (in my opinion). I enjoyed the convention. My newly bought comic stash is awesome, my shoulder bag sports some new pins and patches. Spending time with friends is always exciting, especially when doing nerd-like activities. Hopefully, I'll be able to venture down to Texas again for AFest at the end of August! See you at the next Con!