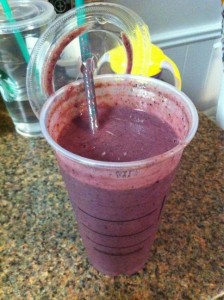 After working out today, I began making my typical Green Monster Spinach Smoothie only to discover we were out of bananas. At first, I didn't know what to do. I've never made a smoothie without bananas before and certainty never thought of attempting it. However, faced with the choice between no smoothie or a banana-less one, I decided to experiment!
If you're looking for a smoothie with berry and vanilla flavors, this is the smoothie for you! Plus, if you're allergic to bananas or don't really like them, this smoothie doesn't have any!
Berry Improvisational Smoothie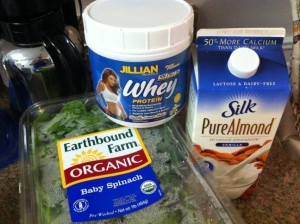 Ingredients:
1 cup Vanilla Almond Soy Milk
1/2 cup Vanilla Greek Yogurt
1 – 2 cups Frozen Berries
2-3 cups Baby Spinach
1 scoop Vanilla Whey Protein Powder*
 * Protein Powder is optional! I add Protein Powder to my smoothie in order to make it suitable for a meal replacement. If you're looking to have a smoothie only as a snack, you probably shouldn't add the protein powder.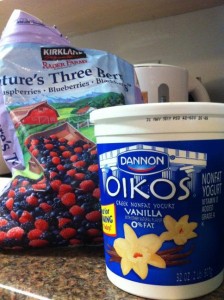 To make this smoothie, start by adding the almond milk, vanilla Greek yogurt and Vanilla Whey Protein Powder into the blender. Take the frozen berries and add anywhere from 1 to 2 cups to the mixture. I used about 1 and 1/2 cups in mine. The more you add the berrier your smoothie will taste. Fill the rest of the blender with baby spinach. This will be anywhere from 2 to 3 cups of spinach. Trust me, you won't even taste the spinach!  In fact, the smoothie turns a nice purple color instead of the green color of my other two typical smoothie choices. Blend the ingredients together until smooth and enjoy!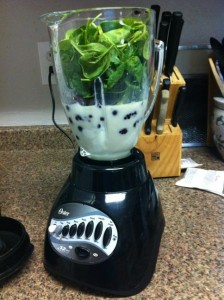 I was able to make a second batch of this Berry Improvisational Smoothie for my nephew and sister. My little nephew is about one year old, and he absolutely loved it! His version was made without the protein powder because the powder shouldn't be consumed by anyone under eighteen years old. My sister tasted both versions and said each tasted equally good. If I make the smoothie again, I will probably add a banana to the mixture. I don't know why, but a smoothie isn't a smoothie without a banana!