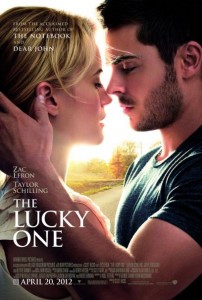 Before I begin writing this review, I want to clarify that this a movie review and not a book review. I have not had a chance to read The Lucky One by Nicholas Sparks; therefore, this review is based solely on my opinion of the film. I have no knowledge of the novel, and it is not the purpose of this review to discuss the accuracy of the adaptation. In my opinion, a book and a film are two completely different stories. Changes will always happen. What makes a great novel does not always make a great movie. As long as the heart of the novel is respected, I'm fine with changes made when adapting a novel to a movie. My reviews almost never contain spoilers, but if a spoiler is given, it is clearly labeled as such!
Yesterday, I was able to spend the evening with my mom. We stopped by Hastings bookstore for buy one, get one free coffee. After talking a bit, we headed to the movie theater. I loved being able to spend the evening with my mom as a late Mother's Day present.
Synopsis: 
"The Lucky One" is romantic drama. The film tells the story of Logan Thibault who is a soldier serving his third tour of duty. After surviving a night raid, he spots a picture glinting in the sunlight. Logan walks over to the picture and leans over to pick it up. The photo is of a beautiful woman, and on the back of the photo is written "stay safe x."  When he picks up the picture, a mortar explodes where he was sitting a moment before and kills those around him leaving him with mere scratches. He attributes his lucky survival to the photo. He attempts to find the owner of the picture with no success. Deciding to keep the photo, he continues to survive tricky situations, calling the photo his "guardian angel."
When Logan returns from his third tour, he has difficulty adjusting back to civilian life and suffers from survivor's guilt. Late one night he searches online for some hint of where the mysterious woman might be. After matching the background of the picture to a lighthouse in Louisiana, he takes his dog Zeus and starts walking there. He arrives in Louisiana and discovers the woman's name is Beth Clayton, and she works at a dog kennel. He goes there in order to thank her but cannot seem to find the words. She assumes he's there to apply for an advertised job, and he goes along with her assumption. When she discovers he walked from Colorado to Louisiana, she is a bit wary of Logan and goes outside to her grandmother Ellie.  Beth convinces Ellie in to go inside and send Logan away, but Ellie hires him instead. Logan works at the kennel and continually tries to tell Beth about the photo but can never seem to find the right words or right situation.
Beth and Logan begin falling in love. He begins spending more time with both Beth and her son Ben. Logan also begins bonding with Ben. The two play chess together, and Logan watches Ben perform magic tricks. The couple's growing relationship runs in to trouble when Beth's ex-husband Keith threatens to take away Ben if the two stay together. Keith is the town's sheriff, and his father is the town's judge. Logan also learns that Beth's brother Drake died in combat, but Beth never found out what exactly happened to him. In many ways, Logan resembles Drake. Logan continues to suffer from survivor guilt and feels responsible for Beth. The two attempt to come together despite the many obstacles which face them.
Review:
I thoroughly enjoyed watching "The Lucky One." The movie is definitely a romantic drama, so if you're looking for a romance, try this one out. Zac Efron is maturing into a great actor. He did an excellent job portraying an ex-marine. Taylor Schilling was a compelling female lead. I absolutely adored her expressions, her smiles, her laughter. The chemistry between Zac and Taylor seemed to flow naturally. As an audience member, I felt drawn to their relationship; I wanted them to be together. The relationship was tenderly portrayed. On the whole, I found the movie sweet.
The critics on Rotten Tomatoes gave the film a 4.2/10 rating (20% liked it). The audience members, however, gave the movie a 3.8/5 (meaning 70% liked the movie). "The Lucky One" is a sentimental, romantic, "feel good" movie. The movie portrays old fashion romance.  The movie is not about surprises, so the plot line is simple and somewhat expected. Though the movie may be said to contain a number of "cliches," the director seems to keep the "cliche" in check. If you're looking for a sentimental chick flick, "The Lucky One" is a perfect fit. However, if you're expecting twists, turns, and heavy action, you're looking in the wrong place. "The Lucky One" is a romance, so surprise! You get romance.
I loved seeing old-fashioned romance on the big screen. Sometimes in our busy over analyzed lives, I think it's wonderful to take a step back and explore small town romance. Logan's character is chivalrous to the core. He joins the family, fixes up the place, bonds with the son, and protects the mother. What's not to love?We need to be reminded of what romance should be, and "The Lucky One" is happy to teach us.
Overall, I give the movie 8/10 stars. Call me a chick, but I enjoyed the romance.