I thought I'd try out a new grilled cheese recipe for dinner yesterday. The combination of ingredients intrigued me, and I always like trying new takes on old recipes.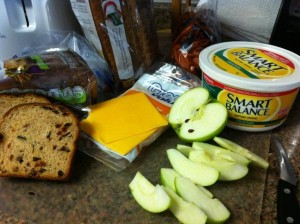 Cheddar Grilled Cheese and Apples on Raisin Bread
Ingredients:
1 Green Apple cut into thin slices.
2 slices of Sharp Cheddar Cheese
2 slices of Raisin Bread
Smart Balance Butter Spread
You also need 1 frying pan and a pancake flipper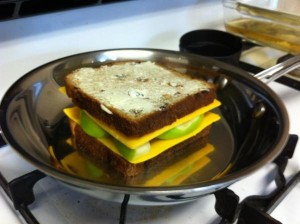 Make sure you have all your ingredients ready before beginning this recipe! Put a frying pan over the stove top on low heat. Take a slice of the raisin bread and spread the butter on one side of the slice. Then place the slice of bread butter-side down on the frying pan. Place a slice of cheddar cheese on top of the bread, and then arrange the slices of green apple on top of the cheese. Put the second slice of cheddar cheese on top of the apples.  Butter one side of the other slice of bread and place it on top of the cheese with the butter side facing up. When the raisin bread on the pan has turned a golden brown color, flip the sandwich over.  Use the pancake flipper to press down on the already golden raisin bread. Wait until the second side turns a golden brown before removing from the pan. Place the grilled cheese sandwich on a plate, cut in half, and enjoy!
I really love the way this sandwich turned out! The combination of ingredients was perfect, and the sandwich was flavorful! I will definitely be making this again!