Red 2 is an action comedy starring Bruce Willis, John Malkovich, Mary-Louise Parker, Helen Mirren, and Anthony Hopkins. When a contract is put out on Frank Moses and Marvin, Frank reunites with his unlikely team of operatives to hunt down a missing portable nuclear device in order to clear their names.
Review: 
Old people with guns makes for great comedy, especially when those old people make the young people look like inadequate idiots. Confession time. I haven't watched the first Red movie, so I'm not sure if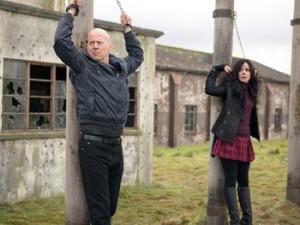 this affected my enjoyment of the film. Still, I liked the film for the most part. The actors interacted well, and most of the jokes were hilarious. John Malkovich absolutely nailed the awkward humor, and the chemistry between Bruce and John was spot on. While the timing of some jokes seemed off, it didn't detract from the movie. I adored both Mary-Louise Parker and Helen Mirren's characters. Their performances made the movie for me.
Again, I can't compare this sequel to the first movie because I haven't seen it. As a stand alone movie, however, I thought it was pretty good—not the best, but not bad. I give the movie 6/10 stars. I had fun.