The Heat is an action comedy starring Sandra Bullock and Melissa McCarthy. Sarah Ashburn, an extremely uptight FBI agent, is in line for a promotion. In order to prove herself as a team player, she is sent to Boston to help local forces track down an elusive drug lord named Mr. Lasson. When Ashburn is paired with Shannon Mullins—an unorthodox, unsociable, and foul-mouthed local cop—all bets are off and chaos ensues.
Review: 
Sandra Bullock and Melissa McCarthy played well together as they teamed up for a comedy not only concerned with laughs but a heart-warming message. The actors performed excellently and the chemistry between the cast was evident throughout the film. Two hours of absolute hilarity! Plus, the movie didn't wholly revolve around sexual humor!
The movie is rated R for language and crude content. While the language was overdone at times, my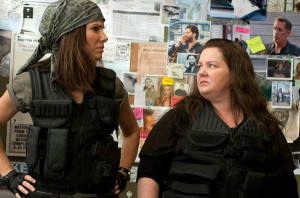 mind eventually tuned it out. The constant dropping of the F-bomb by McCarthy's character is annoying at times, but at the same time, what else would you expect from an R-rated comedy?
I give the movie 8/10 stars. Hardly a moment passed where I wasn't laughing my head off! And I absolutely adored the acting chemistry between Sandra Bullock and Melissa McCarthy.