The Lone Ranger is a western action adventure starring Johnny Depp and Armie Hammer. An elderly Native American warrior, Tonto, begins to tell the untold story of how John Reid transformed from a lawman into the Lone Ranger. When John returns to his hometown, he is idealistic about justice. Upon his arrival, John joins his brother and the Rangers in pursuit of the outlaw Butch Caverndish. John begins losing his grip on his ideals when the Rangers are ambushed and left for dead. Tonto, a renegade Comanche, at the insistence of a mysterious white spirit horse, rescues John and the two become unlikely partners. As they team up to pursue Butch and his gang, John and Tonto quickly realize the problem of injustice is bigger than they originally thought possible.
Review: 
The Lone Ranger was hilariously entertaining with every twist and turn of the ever winding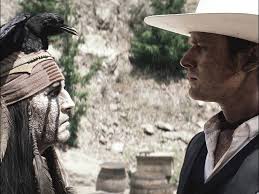 transcontinental railroad. Anytime I thought the movie was "too long," a well timed comedic moment would pull me back into the film. I wasn't at all disappointed with the length of the film. The Lone Ranger uses the majority of screen time to introduce us to its namesake which makes sense! Just think of any superhero movie trilogy. The first movie introduces us to the hero, his surroundings, and how he becomes a hero. The Lone Ranger is a hero and deserves a hero's introduction. 

The acting fit the tone of the movie. As always, Johnny Depp and Helena Bonham Carter performed with comedic finesse. Armie Hammer was believable as the Lone Ranger. He possessed an air of innocence and naivety which was perfect for his character. The contrast of acting styles led to a harmonic balance of comedy-drama. If you're looking for a serious movie, look elsewhere because your laughing muscles will certainly be stretched during this film!
I would not describe this film as "family friendly." Although the film is rated "PG-13," some elements of violence, in my opinion, almost teeter past the PG-13 mark. Two scenes come to mind. First scene. John watches Butch Caverndish cut out his brother's heart. While the movie doesn't focus on Butch while this action takes place, you can somewhat see it happen in the reflection of Butch's eyes and you can definitely hear it which is disturbing, to say the least. Second scene. When watching a western movie with Indians, it is safe to assume Indians will die. In this movie an Indian massacre takes place. Rather intense. Not gory or graphic but intense, heavy.
The Lone Ranger is a perfect blend of action, adventure, comedy and drama. I give it 7/10 stars. I had a blast watching the movie, and it was definitely worth the ticket price.When the Lone Ranger theme song finally plays, you'll be bouncing up and down in your seat and cheering for Tonto and the Lone Ranger! At least, that's what I did! Well done Disney, well done.