Ender's Game is a sci-fi action adventure film starring Asa Butterfield, Harrison Ford, Viola Davis, and Ben Kingsley. The military has started recruiting a new type of soldier in order to save the Earth from an impending alien attack. In hopes of discovering the next brilliant mind, Children are tested and recruited at young ages. Ender is one of these recruits. Time is running out. Ender's limitations are tested and manipulated in order to shape him into a brilliant commander.
Review: 
When a movie is inspired by a novel, I hardly ever use that novel as a reference in the movie review. With Ender's Game I'm willing to an exception. As a novel, Ender's Game is limited by words and the imagination of its reader. When reading the book, I constantly had to remind myself the characters in the book were children. In the movie, I saw they were children—I didn't need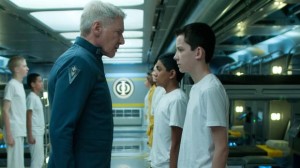 reminding. The movie also brought the idea of video games to life and allowed me to experience the story in a whole new way. Watching the "video games" of Ender's Game on screen was a fantastic experience. Considering the amount of information in the novel, I think the movie did an excellent job of adapting the book to film. While the movie was extremely fast-paced and did not keep everything contained in the novel, the overall message remained the same. Personally, I think that's the most important thing.
Overall, I give the movie 8/10 stars. Stunningly beautiful. I laughed, I cried, and most important, I thought about real life.