Saving Mr. Banks is a family drama starring Emma Thomson and Tom Hanks inspired by the untold on how Mary Poppins made the transition from book to screen. When Walt Disney's daughters beg him to make a movie of their favorite book, he embarks on a twenty year promise to make it happen. Walt Disney meets his match with P.L. Travers—the author of the Mary Poppins books. In need of money, she reluctantly agrees to travel to Los Angeles  to hear Disney's plans for adaptation. Travers becomes more and more immovable and moves the rights go farther away from Walt's grasp. When Walt finally digs into his own childhood, he is able to understand some of the ghosts haunting Travers.
Review: 
My goodness! It is a miracle Mary Poppins ever made it into film form! I don't know how accurate the film is but it sure was entertaining! First off, Tom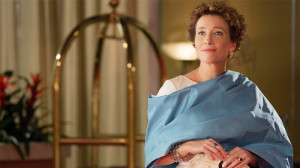 Hanks and Emma Thompson both performed brilliantly. Thompson redeemed a seemingly unlovable character, and Tom Hanks played a lovely Walt Disney. The film alternated between the story of the filmmaking of Mary Poppins and, through flashbacks, the childhood of P.L. Travers. The back and forth never seemed overwhelming or forced and the flashbacks provided a backstory which allowed the audience to understand and sympathize with Travers.
I love movies that provide recognition for iconic writers. "This is your night. None of this would have been possible without you," Ralph, the driver, tells Travers at the movie premiere. So true.
The movie was surprisingly powerful and unexpectedly charming. While sentiment flows through this film, it never becomes overwhelming or overly sappy. Again, Thompson performed excellently, and she might even receive an oscar nomination for her performance.
Overall, I give the film 10/10 stars. Thinking back, I can't remember any problems. Smart, excellent film making.