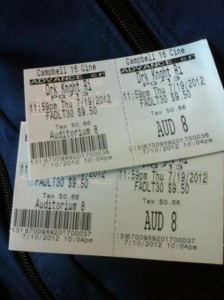 After reading several articles regarding the Aurora, Colorado shooting at the midnight premiere of "The Dark Knight Rises," I decided it would have been rather distasteful to blog yesterday about the midnight premiere. Instead, my prayers went out to the families suffering losses and the victims still recovering in hospitals.
The tragedy claimed 71 victims making it the largest mass shooting in United States history. Twelve people have died. The news is horrific, and the events are unsettling. I am disgusted and appalled that some one is capable of committing such an atrocious act. Upon being arrested, the man claimed he was the Joker. When people do such crazy and explainable things, we often try to rationalize; however, some things cannot be rationalized. Bad things happen to good people, and evil often destroys good. Some claim stories should not depict such evil characters because they inspire psychopaths to wear the masks of  those fictional characters and mimic their actions. Yet the psychopaths would still find masks to hide behind without stories. We cannot allow the crazies to scare away the storytellers or the story listeners. Heroes need to be sung; stories need to be told. They inspire hope in a dark world, and we do live in a dark world. My thoughts and prayers will continue to go out to the families suffering loss.
On Thursday July 19th my friend Rachel and I took it upon ourselves to wait in line for the Batman premiere.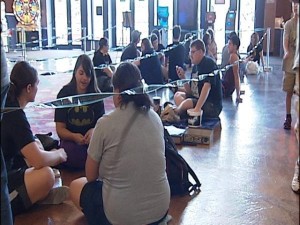 We arrived at Campbell 16 in Springfield, MO around one in the afternoon. We brought drinks, snacks, and a pile of books to aid us in our venture. We were pleasantly surprised to be second in line. I thought fans would have started lining up when the theater first opened, but the guy in front of us had only started waiting at noon! We were almost first in line! The eleven hour wait was definitely an experience. I finished reading Dune and started reading Graceling. We talked to the theater's manager while waiting and entered a raffle contest. Kara and Rebekah joined us around 6:00pm and brought dinner. Then we played cards and Settlers of Catan.
We were allowed into the actual theater around 9:30 pm where I read more of my book and took a short nap. During the wait, vintage stock five dollar gift cards were thrown into the crowd. I caught one. Finally, at midnight the movie started. I leaned back in my seat and enjoyed the movie I had waited eleven hours to see. The movie was definitely worth every minute of the long wait!
I love attending midnight premieres for several reasons. First, the crowds which attend midnight showings are full of die hard fans. They don't use their cell phones during the movie. They aren't talking loudly throughout the film. Everyone simply sits and watches. An explainable excitement hovers over a midnight audience. I love being a part of the midnight crowd. Second, you meet interesting people waiting in line for midnight showings. Some of the best stories I've heard came from members of midnight lines. People have different motivations for waiting for movies. Fans are unique and different from one another. I love listening to the differences.
Some people call us silly or foolish. Why would someone sit in a line for eleven hours to see a movie? Why not just go the next weekend or during a matinee showing? My answer for that is simple. I go for the experience. I go for the unique excitement that comes with seeing the movie at midnight. I go with friends to make memories. Later in life, I probably won't be able to wait in midnight lines, but tonight I'm young and live for such moments!