Captain Phillips is a drama starring Tom Hanks based on the true story of Captain Phillips and the 2009 hijacking of the U.S. container ship Maersk Alabama by a band of Somali pirates.
Review:
The movie focuses on the relationship between Captain Phillips and Muse, the leader of the small band of Somali pirates. Tom Hanks' performance was oscar worthy, and I am beyond frustrated he didn't receive a nomination. In my opinion, he definitely deserves the nomination over Leonardo DiCaprio. Both main actors—Tom Hanks and Barkhad Abdi—performed with excellence. Abdi's nomination is well deserved. All in all, I have no complaints about the acting aspect of the film.
While the director made many smart choices, some choices were not so intelligent. The transitions were smooth, and each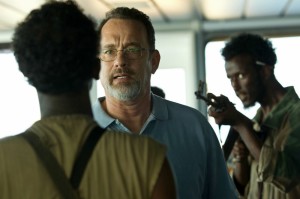 scene added depth to the movie, but the documentary-style approach distracted at times. The director and actors dedicated themselves to portraying the reality of the true events which inspired the film. Some information to know before watching the film can be found by clicking here. Attention to detail in Captain Phillips is astounding. Definitely worth watching!
Overall, I give the film 9/10 stars. Brilliant acting, true-to-life circumstances. Unfortunately, the documentary approach robbed the film of some impactful moments.
★★★★★★★★★★☆