12 Years a Slave is a historical drama based off the true story of Solomon Northup, a free black man from upstate New York who was kidnapped, transported down South, and sold into slavery. Facing both cruelty and unexpected kindness, Solomon struggles to retain both his dignity and his hope. After twelve years, a chance meeting with a Canadian abolitionist forever alters his life.
Review:
12 Years a Slave is a difficult movie to rate for several reasons. Since slavery and racism are such sensitive topics, criticizing elements of the film is extremely difficult. At the Oscars, Ellen DeGeneres said there were two options for Best Film: 1) 12 Years a Slave wins best film, or 2) we're racists. In many ways, she was absolutely right. Of course 12 Years a Slave was going to win best film but for all the wrong reasons.
Yes, the acting was top notch, and Lupita Nyong'o deserves her win for best supporting actress. Chiwetel Ejiofor also pulled off an amazing feat with his portrayal of Solomon Northup, but Matthew McConaughey deserved the win. 12 Years a Slave is an incredible reminder. The film needed to be made; Northup's story needed to be told. I have absolutely no complaints about the acting or even the directing.
However, I do have some issues with the film—mainly the transitions. The transitions were AWKWARD. Every time a horrific scene occurred,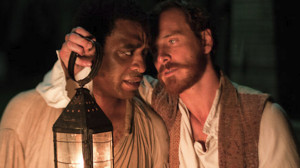 the film would jump to a nature scene afterward. Perhaps the film makers thought the audience needed moments of reprieve to recover from the atrocities. Relief was not achieved. Perhaps the film makers meant to contrast horror with beauty to enable to the message to sink in deeper. Deeper meaning was not achieved. Instead, the transitions constantly kicked me out of the film. In another scene, Solomon breaks the fourth wall by looking directly at the camera. The intention of breaking fourth wall might have aspired to connect the audience with the circumstances of the film, but in reality, the move distanced the audience.
A lot of good. A lot of bad. The film was fantastic but not the best film of the year, in my opinion. I'm glad I watched it, and I plan to read the book, but I probably won't buy the dvd.
Overall, I give the movie 7/10 stars. Moving, yes. Not groundbreaking by any means.
★★★★★★★☆☆☆