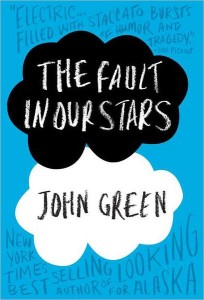 Synopsis: 
Sixteen year old Hazel Grace Lancaster is diagnosed with stage 4 Thyroid cancer with metastasis forming in her lungs. Her mother forces her to attend a support group for children living with cancer. At the support group, Hazel meets Augustus Waters who lost a leg to osteosarcoma and is in remission. Augustus invites Hazel to watch a movie and she tells him to read the book An Imperial Affliction. The book becomes a bonding point for the two teens. 

Review:
Everyone told me I was going to cry. I didn't cry. In fact, since people told me I would cry, I expected the ending when it came. However, I do not feel cheated in any way because I thoroughly enjoyed this book. The Fault in Our Stars is by far the most unique voice I have ever had the pleasure of reading. The story is raw, real, and emotional, hooking its reader from beginning to end. Not only is the story compelling, but also applicable to real life. A win-win situation in my book. The Fault in Our Stars is a young adult written for young adults and not at them. The book does not preach but instead takes life as it is and presents it.
John Green definitely has my vote with The Fault in Our Stars. Well written, well developed, and wholly unique. No complaints whatsoever. 
Overall, I give the book a well-deserved 5/5 stars.  Go read it! Now! 
★★★★★
Seriously…before the movie comes out.