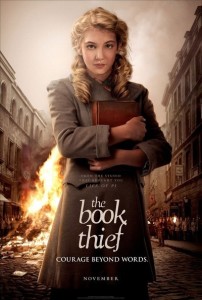 Synopsis:
The Book Thief is a war drama starring Sophie Nélisse and Geoffrey Rush. During the horrors of World War II, Liesel discovers the power of words and finds comfort in stolen books. She learns the world is not always what it seems when she befriends a Jew named Max who is hiding in her adoptive family's basement. 
Review:
Since The Book Thief is such a hefty book, the film adaptation could not possibly include all the avenues explored by its paperback counterpart. However, the film does an excellent job in portraying the heart of the story. Sophie's performance is both compelling and brilliant. She instantly wins the audience over—her big blue eyes don't hurt either. Also, Nico Liersch is perfect as Rudy. Emily Watson and Geoffrey Rush excel in their roles. All in all, the cast blends nicely together.
While not the smoothest of transitions, Michael Petroni's adaptation of The Book Thief performs admirably. The film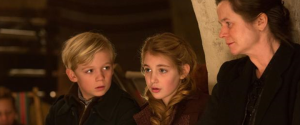 remains loyal but lacks some of the original bite of the book. Although the director probably intended this, the movie was more lighthearted than the novel and the pace lulled quite a bit. The movie ironically demonstrates the power of words. In the case of The Book Thief, the subtle differences make the book the more powerful of the two medias. Still, the movie was heart-warming, heart-wrenching, and left me in tears.
Overall, I give the film 7.5/10 stars. A noble attempt. The movie packs an emotional punch and offers a unique perspective. If you don't have time to read the book, I definitely recommend watching the movie.
★★★★★★★★☆☆