[Re-posted from Evangel Blog]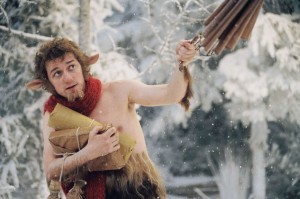 Classes are in full swing. Schedules are quickly filled. Time seems to flee like the white rabbit in Alice in Wonderland screaming, "I'm late for an important date!" The homework pile grows and classes seem overwhelming. However, I find it helpful in the midst of a busy schedule to focus on enjoying at least one of my classes. I find a class, not taken in attempt to earn graduation credits, but taken to edify my life and prepare me for the journey after graduation.  In as sense, it's a way of looking into the future.
One of my favorite classes this semester is "Christian Thought and Modern Literature: C.S. Lewis." We are consuming C.S. Lewis writings in this class, averaging a book a week. The reading load is intense, but I'm enjoying the discussion and insights of fellow classmates. I absolutely adore C.S. Lewis and am thrilled Evangel has essentially handed me an excuse to read an author I love.  We just finished reading The Screwtape Letters and are in the middle of The Great Divorce (I have to finish reading it tonight)!
When I read the words C.S. Lewis penned so many years ago, I feel inspired. C.S. Lewis is one of my favorite authors and stands among the authors who inspired me to embark on a writing career. Next we'll be reading through the Chronicles of Narnia. It's been ages since I've journeyed through the doors of War Drobe, from the country of Spare Oom, into Narnia. I remember reading the series in third grade, fascinated by the mythical creatures and the adventures of Daughters of Eve and Sons of Adam. I remember The Silver Chair and The Horse and His Boy were my favorites. I loved watching the BBC movies. As I reread the series as an adult, I wonder what differences I'll come across. I'm excited! I love exploring old concepts through new eyes.
We often blindly accept views we developed at young ages. The experiences of growing up should challenge old perspectives. We should never become complacent, never stagnant. Classes provide opportunities for change. They challenge us to question old views and mindsets. Take time this semester to enjoy at least one class. Discuss newfound concepts with classmates and teachers. College is an opportunity for exploration, and Evangel provides and environment for God guided exploration. Reading C.S. Lewis helps me grow in my understanding of God. Truth is often found in the most unlikely of sources even from a beaver!
"'Safe?" said Mr. Beaver. "Who said anything about safe? 'Course he isn't safe. But he's good. He's the King, I tell you.'" – The Lion, The Witch, and the Wardrobe
God isn't safe. But He's good. He's the King, I tell you.
Go forth! Explore!