Not a huge fan of metal music. However, when a friend invited me to a downtown concert, I became an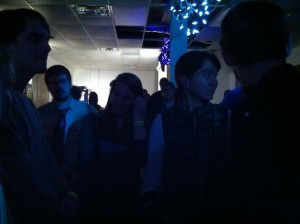 unwitting attendant of a Christian Metal Concert. I, personally, have never been a fan of people screaming in my ears. Not my thing. However, one band during the concert grabbed my attention.
The band's name is Ardent and you can find them on facebook by clicking here. I appreciated the band's use of melody. The music automatically drew me in with its sense of purpose. Screaming was exercised during key points in their songs, to get a message across. Unlike the other bands, I could tell Ardent's purpose wasn't to put on a show or perform for the audience. Their purpose was to demonstrate the love of Christ through a unique medium. Josh Tenneson, the main vocalist of the band, was raw, real. He exposed his heart on center stage and grappled with the audience about core issues of faith. His words were not forced. His words were not fake.
Heavy Metal is still not my cup of tea or coffee or beverage of any sort. I'm not a fan of screaming. However, I can see this band a tool of ministry. Some would disagree. This band has much potential for both success and failure. Allow me to clarify. I'm not talking about financial success or success in the realm of popularity. Many bands pursuing this genre of music have fallen. Bands who initially launch wholly focused on Christ, ending solely focused on themselves. The journey will be difficult, but Ardent already possesses a wonderful base, and their hearts and eyes are focused on the right thing. Thank you, Ardent, for sharing with me a unique experience. You helped a non-metal fan enjoy a Metal Concert.