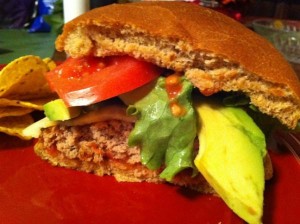 For my last night in Texas, I suggested a turkey burger dinner. My mom thought it sounded like a great idea. So, after having coffee with my dad, we made the trip to a local grocery store and purchased lean ground turkey meat, whole wheat hamburger buns, tomatoes, lettuce, and avocado. My mom prepared the turkey patties while I cut up the produce. She added chopped onion, mustard and some other spices to the ground meat. When I cooked turkey burgers in my dorm last Spring Break, I used a package of oregano seasoning. The package was supposed to season chicken but it worked wonderfully with the turkey meat!
When slicing avocado, first insert the knife at the top of the avocado and cut inward until you hit the pit. Once your blade hits the pit, rotate the avocado until your cut reaches the initial incision. Place the knife down. Put your hands on opposite sides of the avocado and twist. One side should break free from the pit. If you're using a heaver knife, you can swing the blade down into the pit. Then by removing the knife, you remove the seed. If you're using a smaller knife, you can usually use the knife tip to dig the seed out. Even better (and safer) use a spoon to dig out the seed. Take a spoon and run it lightly between the skin and avocado. This will loosen the avocado "meat" and make it easier to pop out. Then slice into avocado strips!
My finished turkey burger consisted of:
1/5 lbs Lean Ground Turkey Burger (cooked)
2 Slices of Tomato
1 Large Lettuce Leaf
5 Slices of Avocado
2 tbs Lime and Garlic Salsa
The salsa complimented the other ingredients perfectly and made a healthy alternative to my usual mound of ketchup. There are 15 calories for every 1 tbs of ketchup.  Typically  I use about four tablespoons (if not more) on my hamburger. However, two tablespoons of salsa contained the same amount of calories as one tablespoon of ketchup and added much more flavor to my avocado burger! The new health-aware me was delightfully surprised at this discovery!
Eating healthy does not have to be a chore. With healthy ingredients and a little imagination, the world is your oyster! Hmmm…oysters…