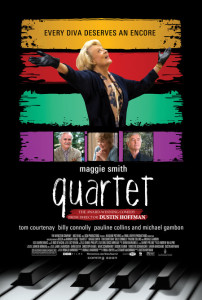 Before I say anything else, I will say this. Go see this movie. Read on, and I will tell you why.
Synopsis: 
Quartet is a comedy drama starring Maggie Smith, Tom Courtenay, Billy Connolly, Pauline Collins, and Michael Gambon. A retirement home for retired musicians faces foreclosure. However, the residents hope to raise enough money to keep the home open by singing at an annual concert. The preparations for the concert are interrupted by the arrival of Jean Horton (Maggie Smith). In her prime, Jean was a diva, a star. When she comes to the retirement home, Jean must face old friends and ex-lovers. In old age, Jean has lived to regret past decisions and must now face the consequences of those decisions made in her youth. Through discovery, she might also learn she is not as old as she thinks.
Review: 
The movie was stunning. Quartet was well cast and well executed. Maggie Smith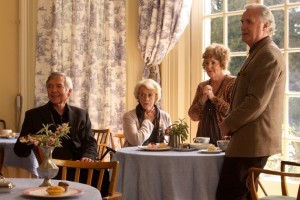 executes a brilliant performance along with her co-stars. Billy Connolly is absolutely hilarious as his character Wilf Bond. Although the plot is simple and predictable, the all-star cast pulls it off gracefully and brilliantly. The plot doesn't need to be complex. The plot focuses on a simple but quality situation instead of an unnecessary series of complex twists and turns. The movie is sentimental and heartwarming while simultaneously entertaining its audience. Each and every actor possessed phenomenal talent and ability in the musical arts, and as an aspiring artist, I felt privileged to watch this movie. You might not hear about this movie on television or in newspapers, but it is a hidden jewel among the movies currently in theaters. Take my advice. (Especially if you are pursuing a degree in music or art of any kind). Run to the theater, and see this movie.
I give this movie 10/10 stars, and if you know me, I do not give ratings lightly. Sometimes well executed simplicity is best.