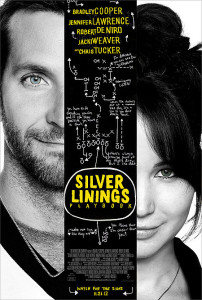 Synopsis:
The Silver Linings Playbook is a romantic comedic drama starring Bradley Cooper and Jennifer Lawrence. Against doctor recommendation and without the knowledge of her husband, Dolores (Jackie Weaver) removes her son Pat (Bradley Cooper) from the psychiatric institution where he has spent the last eight months. Pat moves back in with his parents and, in order to reconcile with his ex-wife, attempts to straighten out his life. Pat is a diagnosed bipolar. In order to remain on track with the court, Pat regularly attends therapy sessions. However, he refuses to take his medicine because it makes him feel "foggy." While on the road to recovery, Pat meets Tiffany (Jennifer Lawrence) who is also bipolar. The two form a quirky relationship as friends in hopes of helping one another overcome their individual disorders. Tiffany agrees to deliver a letter to Pat's ex-wife, if he will be her partner in a local dance competition. The two begin training together and start conquering their disabilities and insecurities. The movie deals with their struggles against mental disease as well as the problems of their dysfunctional families.
Review: 
When Jennifer Lawrence won best actress for her performance in The Silver Linings Playbook, I immediately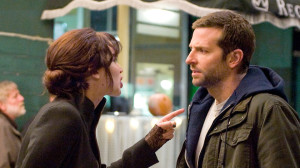 added the movie to my "must watch" list. I am definitely not disappointed that I did! The movie is a down to earth approach about real life problems and struggles. Ordinary people all across the world struggle with mental diseases such as bipolar and depression. The movie not only represents the inward struggles of one diagnosed with bipolar, but also the repercussions he or she has on the world around them–their families, their friends, their neighbors. I loved how the movie not only dealt with the individual struggle but the equally dysfunctional families these individuals belonged to.
Both Bradley Cooper and Jennifer Lawrence did phenomenal acting in this movie. Their performances allowed me to suspend disbelief and enabled me to spend time in the lives of these dysfunctional people. The actors portrayed their characters without going "overboard." They made their characters real and vulnerable. Their performances also made me think about the real existence of these disabilities in our society. I have friends who struggle with various disabilities and this movie made me think of both them and the struggles they face every single day.
The Silver Linings Playbook contained everything I enjoy about movies. The movie made me think about serious issues and my involvement with these issues. The movie also made me laugh, and through laughter, again made me think. The acting was spot on and the script was well written. After watching this movie, I understand why it was up for so many oscars. Overall, I give the movie 10/10 stars. The Silver Linings Playbook was nominated for Best Motion Picture with reason. Some movies carry a certain finesse which speaks to the human condition. The Silver Linings Playbook spoke to my human condition. I will definitely be adding it to my collection along with Les Miserables, another 10/10 movie for me. 
Side note: The Silver Linings Playbook is R-Rated for language and some sexual content and nudity.