On the 22nd of March, I embarked on a journey of nerdom. At 6:30 PM I went to Hollywood Theatre and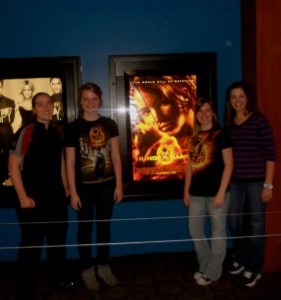 waited in line for the midnight showing of "The Hunger Games."  I wore an exact replica of the Hunger Games training jersey, black cargo pants, and my black Nike tennis shoes. As I walked by the lines fellow nerds, waiting for the various showings, I noticed looks of awe. I smiled. Sometimes its fun to make other nerds jealous.
Kara had arrived fifteen minutes before I did, and a small group of movie goers had already collected behind her spot in line. I ducked under the rope and joined her. Friends laughed at how early I left to wait in line. They didn't understand. Two ladies had been waiting since 10:30 AM (they beat the manager to the theatre). A group of girls had started waiting in our line at 2:30 PM. Kara and I started waiting at 6:15 PM, and there was already a decent line before and behind us. In other words, arriving early turned out to be a fairly smart idea.
While waiting in line, I graded papers for my English Practicum class. I also worked on History and Structure of the English Language homework. I talked to the boy in line beside me. He was seeing the movie with his sister. They were nice. During the wait, staff from the movie theatre interviewed me about the Hunger Games. They asked several questions. Why did I choose Hollywood Theater? Who was I dressed up as? What excited me most about seeing the Hunger Games film?
The staff allowed us into the actual theater at 8:15 PM. I've never been let into a midnight showing that early before! Kara and I were able to snag the six seats necessary for our group. If we hadn't arrived as early as we did, we would not have acquired such amazing seats. I continued to do homework in the theater, and Kara slept. Soon the rest of our group arrived. Ruthie brought me Chai Tea from Starbucks-a lovely refreshment after three hours of waiting. During the remaining hours of wait time, we discovered our theater was holding a "Hunger Games" competition. If we wanted our names to be in the drawing, we had to donate a canned good to the theater. Immediately, Ruthie and I made the journey to the Bistro Market and bought canned-goods for each member of our group. Once back at the theater, the wait continued.
A staff member dressed as Effie Trinket came into our theater around 11 PM with a fish bowl full of white sheets of paper. My heart pounded. She reached into the bowl and pulled out a name. "Alison Drewitz," she called. My head turned to Alison. Ruthie, Sandi and I smiled and laughed as Alison reluctantly went down. When she found out she would be filmed, Alison no longer wanted to compete. So I took her place.
I volunteered as tribute, sacrificing myself so that Alison could see another day. Well, it wasn't quite so dramatic, but you get the idea. The four chosen tributes competed in various activities. The first round dealt with style, the second with skill, and the third with trivia. After surviving the first two rounds of competition, I botched the simplest trivia question possible. "What is the name of the character who draws the names for the Hunger Games?" My mind blanked, hardcore. I stared into the faces of fellow fans, petrified. Feelings of inadequacy crept into my heart. I'm not a true fan, I thought. I can't remember her name. One name popped into my mind-Trinket. The name didn't sound right. I thought the name might have an F-sound in it. I coudln't remember. The time quickly passed, and when asked, I had nothing to give in answer to the question and lost the Hunger Games. Later, I told my friends that "Trinket" popped into my head. They informed me "Trinket" is Effie's last name. So close. Still, I won a copy of the first book. Not bad at all!
Ironically, my competitor for the last round was a boy with blonde hair. Picture this. A brown haired girl wearing her Hunger Games jersey and a blonde headed boy. An audience member shouted out what everyone was no doubt thinking. "It's Katniss and Peeta!!" I couldn't help but smile.
Overall, the Hunger Games midnight showing was a great night. I had tons of fun waiting in line, being interviewed, competing in a mini-Hunger Games, and watching the movie with some of my best friends. Plus, I thoroughly enjoyed the movie! Not bad for a Thursday night, not bad at all!
I'm planning on watching the movie again. When I do, I'll post my thoughts. Until then, may the odds be ever in your favor!