The Hobbit: The Desolation of Smaug is a fantasy adventure film and the second of three installments based off The Hobbit by J.R.R. Tolkien. The second movie begins with a flashback and then picks up the story from where the first film ended. The dwarves and the hobbit Bilbo encounter a skin-changer, giant spiders, elves, humans, and the dragon Smaug on their quest to retrieve the Arkenstone. One Arkenstone to rule the dwarves.
Review: 
Tons of action. Tons of adventure. The Hobbit: The Desolation of Smaug is definitely a must watch film for fantasy lovers!
Although The Hobbit by J.R.R. Tolkien exists in a singularity (one book), they are making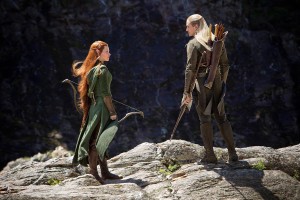 three films. What does this mean? Well, the second movie ends with a rather terrible cliffhanger—at least for those who have not read the book.
Speaking of the book, some people might not like the added plot lines or deviations from the novel, but I enjoyed them. I thought the romance between Tauriel (the she-elf) and Kili (the dwarf) was adorable. In fact, every time Tauriel made an appearance on screen, she stole the show. I absolutely loved her character!  While the expansion of Gandalf's involvement seemed a bit tedious at times and might irritate some move-goers, I understood filmmaker's desire to directly tie The Lord of the Rings trilogy into The Hobbit trilogy. The additions made sense.
If you enjoyed the first movie, you'll enjoy the second. Buckle up and expect more action and more adventure in this second installment of The Hobbit trilogy!
Overall, I give the film 9/10 stars. I definitely enjoyed the film and cannot wait to see the third!