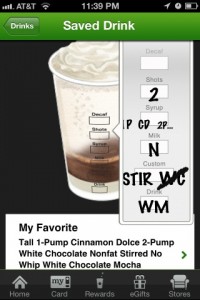 My recent discovery of the Starbucks iPhone app has made my coffee addiction much more manageable. The App allows you to create and save drinks, reload and pay with your phone, hunt for jobs and much more.
"My Drinks" is where to find saved beverages. Not only can you create and save personal favorites, but you can also create and save your friend's favorite beverages. The Thin Mint Frappuccino is saved in mine. "My Favorites" allows you to save your favorite store locations, coffee blends and foods. "Coffees" displays the various blends Starbucks carries and allows you to choose your favorites. "Food" shows you all the food Starbucks offers. The Starbucks App provides the ingredients,  nutritional information, and allergens for each food. "Drinks" allows you to create your own beverages, hot or cold, which you can save to "myDrinks." "Jobs" tells you which Starbucks locations are accepting applications. The GPS locator helps you locate the Starbucks near you. The "Settings," "Help," and "Scanner" sections are self explanatory.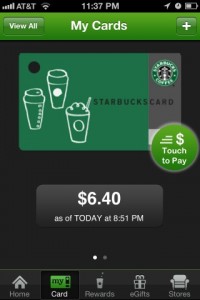 "Drinks" is extremely helpful and extremely fun to play around with. When you click on "Drinks," it starts out  by giving you the choice between a hot or cold beverage. After selecting beverage size, you can add syrups or toppings. You can take away or add ingredients. Once you've completed your beverage, the App gives you the option of saving the drink under "myDrinks" and giving it a unique name. I immediately took advantage of this section of the App and saved my "usual" Starbucks beverage.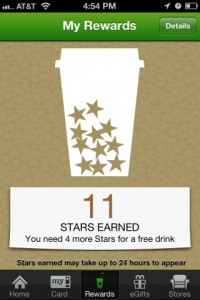 One of the my favorite attributes of this App is the ability to pay with your phone. The App displays each registered card you've registered and the amounts you have on each card. When you tap the button "Touch to Pay," the card flips over on the screen an displays a bar code. The majority of Starbucks locations carry scanners for scanning the bar code off your phone. Once the bar code is scanned, your phone immediately updates the amount of money on your card.The App also allows you to view your rewards. You can view your personal rewards, the benefits of each reward level and how many stars you have obtained. Plus, its fun to watch the stars fall from the top of the screen and fill your cup.This is a brilliant App and a necessity for coffee lovers and addicts! The App is completely free, so I highly recommend downloading it!