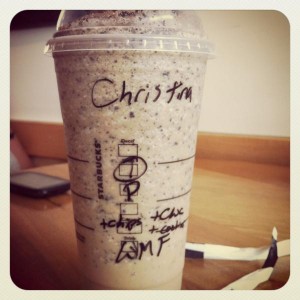 Through Pinterest, I stumbled upon a link leading to Starbucks' "secret" menu. Intrigued, I began scanning the various items. While combinations such as the "Captain Crunch Frappuccino" sounded strange, others like "Snickers Frappuccino" sounded absolutely indulgent.  I have determined to as many of these secret menu items as possible. Every time I receive a "free drink" coupon from Starbucks, I will dig through the secret menu and pick a new drink to try, posting my findings here.
If you want to order the Cookies and Cream Frappuccino ask for a white chocolate mocha with a pump of peppermint and add java chips. I also added chocolate whip cream, some cookie crumbles, and a shot of espresso.
I'm not going to lie, I enjoyed this drink quite a bit, yet the frappuccino didn't taste exactly like cookies and cream. To me the drink tasted like the peppermint white mocha with some java chips added in the mix. However, I could see how the drink would hint toward the taste of cookies and cream. The peppermint is a nicely added touch which, I believe, brings the drink closer to the taste of the ice cream its named after. I'm not sure if the barista can blend cookie crumbles into the drink itself, but I could see that helping the drink taste more like cookies and cream.
As I was drinking this wonderfully delicious beverage, I could see Jillian in my head screaming at me. This drink, especially the venti size, probably packs a serious amount of sugar and calories. Jillian would be so angry, but my taste buds were so incredibly happy. Besides, the drink was free, why not pack on the sugary goodness when it's free? Right? Allow me to suppress my health conscious conscience a bit more.
The drink was overly sweet, so if you're not that big into sugary drinks, avoid this frappuccino. I will definitely keep this in mind for the occasional treat, but then again, I didn't see much difference between the cookies and cream frappuccino and the white chocolate peppermint mocha. And I love that peppermint white mocha.
As always, happy drinking!