I originally stumbled upon secret Starbucks recipes through Pinterest. However, recently I landed on a website dedicated solely to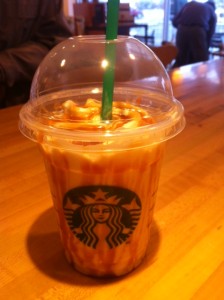 Starbucks Secret Recipes. You can find all sorts of recipes for indulgent frappuccinos on this site. I have decided to try some of these recipes and post my findings here. This process has been made slightly easier because of my recent employment at Starbucks!
Okay Potterheads, you'll rave when you hear about this frappuccino. The Butterbeer Frappuccino is a Harry Potter inspired frappuccino. If you want to order a Butterbeer Frappuccino, ask for a Grande cream base frappuccino with three pumps caramel, three pumps toffee nut, and extra caramel drizzle both inside the cup and on top of the whip cream. I made my frappuccino with heavy cream instead of whole milk which gave it a richer, buttery feel (along with more calories).
Oh my goodness. The Butterbeer Frappuccino is absolutely delicious! I could imagine pulling up a chair in Hogsmeade and drinking this frappuccino. In fact, if butterbeer came in frozen form, it would taste like this!
I've never thought about combining caramel and toffee nut, but the combination of these syrups created a smooth, buttery flavor. The flavor was not predominately sugary but more buttery, almost like caramel popcorn. Although I would not consume this frappuccino on a daily basis, I am definitely a huge fan of this drink! I find myself craving one even as I type this blog!
Next time you swing by Starbucks, order this frappuccino! Starbucks may not be Hogsmeade, but this drink is the next best thing to butterbeer and a definite must try for every Harry Potter fan!
As always, happy drinking!